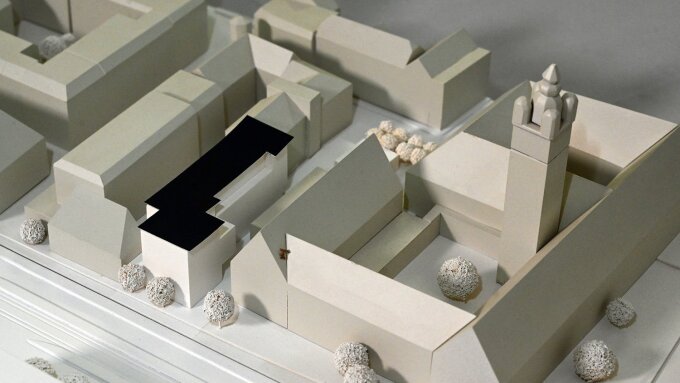 An der Universität Jena werden am 14.10.2019 erste Pläne für die Kommunikationszentren "Focus" auf dem Beutenberg und "Forum" neben dem Universitätsgebäude vorgestellt.
Image: Jan-Peter Kasper (University of Jena)
Two new communication centres
Communication and interaction are two essential aspects of science, which is why two new communication centres are planned in Jena: the FORUM in the city centre next to the Main Building of the Friedrich Schiller University (shaded black in the picture left) and the FOCUS building on the Beutenberg Campus. The new buildings are being funded by the Carl Zeiss Foundation, which has donated 18.4 million euros to the project.
JenaVersum relocates to the FORUM
»Jena has become an important city that attracts top-level researchers and young talent from around the world. In addition to excellent research centres and high-tech buildings, we require open and central spaces for interdisciplinary interaction, intercultural exchange, and for a noticeably welcoming culture,« emphasizes University President Prof. Dr Walter Rosenthal.
The new buildings will house conference rooms, dining facilities, and living spaces for visiting scientists and scholars. The newly founded »Jena- Versum«, a cooperative network between the University and its partners, will also be based in the FORUM. [AB]