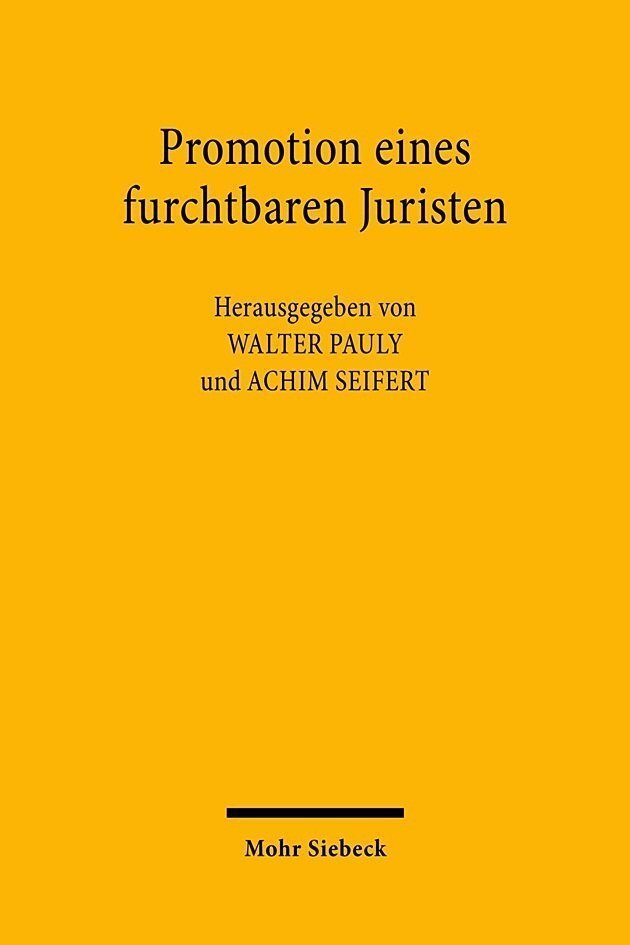 The front cover of the book on Roland Freisler, which was published in May 2020 by the legal scholars Walter Pauly and Achim Seifert from the University of Jena.
Picture: Mohr Siebeck GmbH & Co. KG
Born in Celle, Freisler enrolled in Law at the University of Jena in 1912. He'd gone to grammar school in Aachen and Kassel and graduated as the best student of his year. When the First World War broke out two years later, Freisler reported for military service on 4 August 1914. Six years later, in the summer of 1920, Roland Freisler returned to university. After fighting in the war for two years, he'd been taken prisoner by the Russians. In 1922, he completed his doctorate with a thesis entitled »Principles of Business Organization«, for which he received the distinction »summa cum laude«.
How did Freisler become a fanatical Nazi jurist?
A commission from the Faculty of Law at the Friedrich Schiller University Jena has taken on the task of investigating and documenting Freisler's time at the University of Jena.
The commission invited the historian Thomas Clausen to Jena in May 2018. Clausen is doing his doctorate under the tutelage of Christopher Clark in Cambridge. The subject of his thesis is »Roland Freisler (1893-1945): An Intellectual Biography«. When he was in Jena, Clausen presented his work on the »dreadful jurist«, a term used by the late German author and playwright, Rolf Hochhuth. His presentation forms a central part of the book »Doctorate of a Dreadful Jurist«, which was published by professors Walter Pauly and Achim Seifert from the Faculty of Law at the University of Jena.
The key question asked by the authors is how Freisler ultimately became the man he was and what role was played by his education at the University of Jena. Their conclusion is somewhat sobering: There clearly isn't a universal formula to stop graduates from drifting to extremes! However, a decisive contribution to Freisler's political views seems to have been made by his doctoral supervisor, Justus Wilhelm Hedemann. The civil and commercial jurist wasn't fit for battle himself, but he was one of the most vociferous supporters of the war amongst Jena's professors. The ties between Freisler and Hedemann lasted well beyond their teacher-student relationship.
After a brief stint as a moderately successful lawyer, Roland Freisler became a fanatical Nazi jurist. After joining the Nazi Party at an early stage, the conflation of right and wrong soon became his trademark. He played an inglorious role as the President of the People's Court, especially in the show trials against the conspirators of 20 July 1944. He died following a heavy air raid by the US Air Force on 3 February 1945.

Text: Stephan Laudien