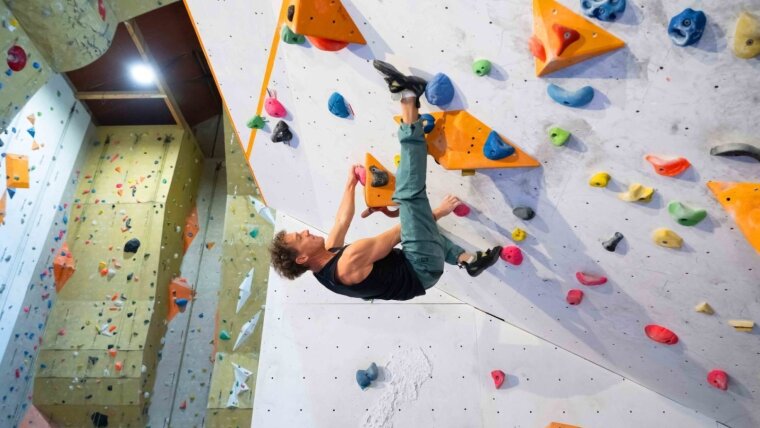 The dreaming realist
Portrait of the pharmacist Prof. Dr Oliver Werz
Aerial acrobatics: Prof. Dr Oliver Werz in the climbing hall.
Climbing, running, researching… Dr Oliver Werz is a pharmacy professor with plenty of interests. He pursues every single one with a great deal of passion but always keeps his feet on the ground. We portray a scientist who simply can't sit around twiddling his thumbs and who reveals what bouldering and scientific experiments have in common.

By Till Bayer
»This boy is hyperactive!«. Oliver Werz can't help laughing as he recalls his mother's words. Ever since his childhood in the Swabian city of Reutlingen, he's been passionate about pretty much everything to do with sports and science. He was enthusiastic about reptiles and amphibians from an early age; and he played handball, went swimming and did gymnastics. Werz was always on the move. At the same time, he developed an interest in horticulture and started growing cacti. While his friends raved about rock music and motorcycles, Oliver Werz joined a cactus club at the age of 17.
After finishing secondary school, Werz initially wanted to pursue a career as a horticultural engineer. But things turned out differently… He made a spontaneous decision to study pharmacy in the nearby city of Tübingen in 1988; he wanted to become a pharmacist to pursue his interest in science but with secure job prospects. He is now a Professor for Pharmaceutical Chemistry at the Friedrich Schiller University Jena. He has been teaching and researching here for the best part of ten years. The now 55-year-old hasn't outgrown his »hyperactivity« – but it does him good.
Controlling the inflammation process with natural products
This also applies to his work as a scientist. Werz is involved in no fewer than three collaborative research centres at the University of Jena and is advancing a research topic that he has painstakingly established over the years: the formation and biology of ›lipid mediators‹. These are tissue hormones that control inflammation processes in the human body. If these substances could be regulated by pharmaceutical agents, one may improve the treatment of inflammation. But it's a complex matter: »Inflammations are the body's natural defensive reactions to viruses, fungi or bacteria,« explains Werz. On the one hand, lipid mediators make sure the pathogens can be cleared and the damage to the body can be healed; on the other hand, they cause pain, swelling or even organ damage.
That's why Werz is looking for active ingredients that enhance the positive effects of the hormones while curbing their negative side effects; he is focusing on natural products, which can often have a broader effect than synthetic substances and also trigger fewer side effects. »There's still a lot of research to be done in this field,« says the pharmacy expert. »I'm motivated by the fact that inflammation is the driving force behind so many common disorders such as heart attacks, cancer, arthritis and back pain«.
A Swedish research idol
Werz's interest in lipid mediators – and his decision to embark on a scientific career – are thanks to a Nobel laureate. After graduating in 1992, he wrote his doctoral thesis on 5-lipoxygenase, an enzyme that converts unsaturated fatty acids into inflammatory messengers. This was his first step on the road to inflammation research. His second step took him to the renowned Karolinska Institute in Stockholm, Sweden, where he had the opportunity to work in a group led by Bengt Samuelsson. Samuelsson had won the Nobel Prize in Medicine in 1982 for discovering 5-lipoxygenase. This was a huge chance that Werz simply had to take – even if, in hindsight, it meant the end of his beloved cactus collection. He'd amassed hundreds of specimens and couldn't just take them with him to Stockholm. Most of the plants wouldn't have survived the cold climate and different lighting in Sweden.
»It was undoubtedly one of the most important decisions of my life,« recalls Werz. »Up to that point, I could still see myself working in a white apron at a pharmacy. But during my time in Sweden, I realized that my true passion was research«. That was also due to Samuelsson. He encouraged Werz to deepen his research topic, try out new types of experiments and ultimately train as a professor. Werz still sees him as his scientific role model: »I was particularly impressed by his sharp thinking and down-to-earth manner,« he recalls. »He always made time for me and offered to call him by his first name. I'd imagined a Nobel laureate to be more distant«.
From the desk to the running track
Werz stayed in Sweden for two years before returning to Frankfurt and then moving to Tübingen, where he was appointed as a professor at the university in 2005. He moved to the University of Jena in 2010, by which time he had started a family. The family-friendly environment – and the many opportunities to collaborate with other scientific fields – persuaded him to take this step. These are the reasons why he has always remained loyal to Jena to this day – with one little exception… In 2015, he moved with his whole family to Boston in the USA to conduct research at Harvard Medical School.
Oliver Werz also likes the fact that the University of Jena is just a stone's throw away from nature. He goes running in the surrounding hills three times a week – as a healthy contrast to all the hours he spends at his desk. He even runs half-marathons with his friend at the weekends: from the ›Fuchslöchern‹ in the east of the city, through the ›Paradies‹ park and all the way to Lobeda and back. It only takes him a little over 90 minutes to cover the 21-kilometre route.
The science of bouldering
Werz is also ambitious when it comes to another hobby that he came across in Jena: bouldering. This is a type of climbing near the ground without ropes and harnesses. As the »bouldering grandpa«, as Werz is kidding, he shows many younger people how it's done and even conquers the most challenging walls. As he moves smoothly from grip to grip, he makes the most of his low body weight and climbing experience. He's been rock climbing for over 20 years – that's even how he met his wife. The thing he finds most appealing about bouldering is the complexity of the trendy sport: »It's like a scientific experiment,« explains Werz. »You have to try a difficult bouldering route over and over again, changing the parameters each time until it works«. A tiny detail, such as changing the way you angle your foot or shift your weight, can determine whether you reach the next grip.
Running, bouldering, all his commitments as a professor… it's a miracle that Werz manages everything. But he's got an answer for that as well: »I try to structure my life in such a way that my job, family and hobbies are connected as good as possible«. For example, he often takes his running gear to the office to fit in some training on the way home. And bouldering also means spending time with his family, as his 13-year-old son is also a talented climber and joins him at the bouldering arena at the weekends.
Always keep moving and try out weird and wonderful things now and then – those are the words Oliver Werz has lived his life by since he was little and he wants to keep to that way of life in the future. He also wants to conduct research abroad again – provided he can return to Jena afterwards. After all, the professor has come to appreciate a little peace and quiet – at least at home and work.
Oliver Werz, Univ.-Prof. Dr
Room D 202-B
Philosophenweg 14
07743 Jena