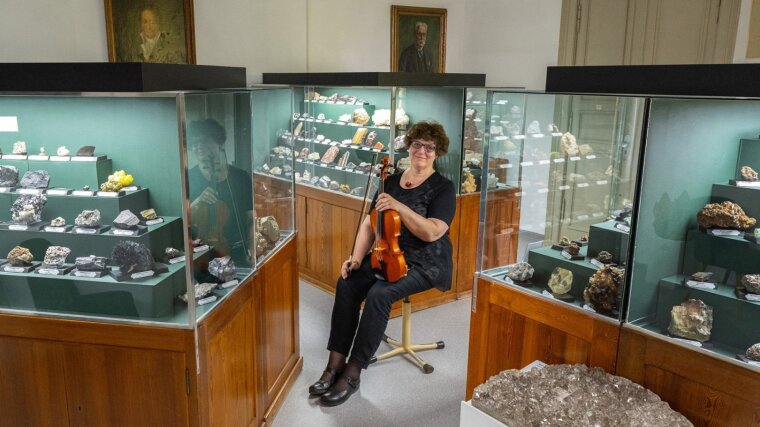 Portrait
Dr Birgit Kreher-Hartmann – ​scientist, musician, collector
Dr Birgit Kreher-Hartmann in »her realm«, the Mineralogical Collection of the University of Jena.
Dr Birgit Kreher-Hartmann's heart beats for minerals and rocks. Even as a child, she was fascinated by the things that others carelessly overlooked on the side of the road. Today she is the curator of the Mineralogical Collection at the University of Jena. She wants to pass on her knowledge and passion not only to students, but above all to schoolchildren. We present the dedicated scientist and her passion.
By Vivien Busse
---
When you enter the Mineralogical Collection, you can see cabinets full of rocks and minerals in almost every corner of the room, grabbing your attention as they glitter and shimmer in the light. The very first room features a particularly large and impressive exhibit – a piece of quartz that can be admired up close without a glass case. Dr Birgit Kreher-Hartmann is the curator of these glistening, colourful and sparkling pieces.
Love for inanimate nature
She developed a love for inanimate nature at an early age. As a child, she would collect stones and minerals when she was walking with her grandparents. »It all started in third grade when we looked at minerals from the Harz Mountains in class«, recalls Kreher-Hartmann. When she was still at school, she attended public lectures at the University of Braunschweig to learn about the physical and chemical properties of minerals and their occurrence and formation.
She was particularly fascinated by mineral microscopy. She has remained an avid collector to this day. In addition to endowments, donations and estates, some items in the Mineralogical Collection were collected on Kreher-Hartmann's private trips. When asked whether and how much her passion for collecting affects her private life, she can't help but laugh. »My husband soon learned that ›handpieces‹ are terrain samples that can only be carried with both hands«, she says.
There are now more than 80,000 exhibits in the Mineralogical Collection, which Birgit Kreher-Hartmann has been managing for just under 30 years. Founded in 1779, the collection is now housed at the Chair of General and Applied Mineralogy within the Institute for Geosciences.
The 58-year-old explains that starting out as a curator was far from easy. As she talks, her hands brush over her penchant – a polished, dark red stone. One of her PhD colleagues at the University of Würzburg told her about the position advertised in Jena. On her very first day as the head of the collection, she had to spontaneously lead a guided tour. »All my colleagues had gone home, but I was pretty bewildered and ended up confirming a guided tour for a school class on the phone. I had a lot to say about mineralogy after my studies, but I had absolutely no idea what was in the collection«. Of course, things are different today.
Green desires
Her favourite item in the collection is an emerald crystal from Muzo, Colombia. »It's strange because green isn't really my colour, even though I like to be in the countryside surrounded by nature«, explains the keen cyclist. »But that green is intoxicatingly beautiful«. The crystal in question is completely transparent and clearly stands out from the calcite crystals around it.
Birgit Kreher-Hartmann sees the collection as more than just a museum – it is also an important place of education. »We live in a world made of minerals. They're the building blocks and raw materials for everything we use in our everyday lives«. She's critical of the fact that mineralogy is only marginally included in school curricula. »If you can't tell a birch from a conifer, that's a problem. But if you can't tell basalt from granite, nobody cares«. That's why Kreher-Hartmann offers various workshops for schools and training courses for teachers. She also regularly takes guests from the university on guided tours of the collection.
Her passion for rocks, minerals and the scientific collection has also been recognized outside of the university – the Thuringia Museum Association has awarded her the Bernhard von Lindenau Medal for her dedication.
But that's by no means the end of Birgit Kreher-Hartmann's commitment. She is a long-standing member of the jury for »Jugend forscht«, a youth research competition in Thuringia, she is the press officer for the German Mineralogical Society, and she also heads the minerals working group at the National Museum of Natural History in Braunschweig. She also spent many years acting as the spokesperson and deputy spokesperson for mineralogical museums and collections in German-speaking countries.
When Birgit Kreher-Hartmann is not busy with her professional and voluntary work, she likes to perform music. She has been playing viola in the Academic Orchestra Association for 25 years. The viola has been her instrument since the 10th grade – and before that she learned to play the violin for four years. Besides the orchestra, Kreher-Hartmann also plays in a string quartet. »Music gives me balance and inner peace«, she says. She also values the fact that music brings people together, for example when she participates in exchanges with a Japanese orchestra and travels with her fellow musicians to countries such as Italy and Denmark. And she also benefits from the exchange of ideas within the orchestra in Jena, where she talks to people from other parts of the university.
Balance on the bike
Kreher-Hartmann, who lives in Jena with her husband and son, says she always looks forward to a few quiet holidays with her family as a further balance to her work. »For example, we like to go cycling in Brandenburg«. But her love and keen eye for minerals won't let her go, even on holiday. So, she will continue to collect here and there or marvel at nature and its wonders.